Toward a better understanding of the user/developer communities who support open source energy systems analysis
COP 27 is the next United Nations Climate Change Conference to be held in Sharm El Sheikh, Egypt during November 2022.
Skip through to section 2 for the main message if pushed for time.
This is also a request for assistance. I would like to interview people involved in open source development generally and energy system modeling specifically — and particularly users and contributors who work in the global south. The underlying question is how can the COP 27 deliberations better support model‑mediated energy policy analysis and, more especially, applications in the global south. See section 4.
1. Energy system modeling
High‑resolution energy system models are used to explore rapid decarbonization in a systematic and integrated manner. They typically use hourly timesteps, embed engineering and market detail, and hunt for least cost pathways out to net‑zero in 2050. The results are invariably sensitive to the methods and inputs used, making analytical transparency doubly important. Erlach (2020) provides further explanation.
Such models have historically been developed by government consortiums and by research and policy institutes under contract. And they invariably rely on closed analysis: closed source models, in‑house datasets, and with many assumptions left undocumented. The software itself may be either internal or proprietary. This style of analysis is not easily audited, let alone replicated.

Open source energy system models invert that context entirely. The source code is open, the datasets genuinely open wherever possible, and the models are accessible and increasingly better documented. The various codebase projects (also known as modeling frameworks) are now building user and developer communities using established FOSS (free and open source) methods and norms (see Boehm 2019). Aside from transparency, the associated development paradigm potentially offers agile development, soft technology transfer, inclusion, a broader range of skills and perspectives, higher coding standards and less bugs, and improved project continuity.
But this development paradigm has downsides too. It is more fragile than closed development in some respects, being highly reliant on the maintainers who are often either volunteer or if employer‑supported, have this component of their time under‑recognized. And although the underpinning ethos fits well with open science, it nonetheless falls counter to many established practices in mainstream science, public policy analysis, and public engagement. In short, this new paradigm clearly confronts much of the status quo.
The shorthand "open energy system model / ing" (OESM) is used here to describe this emerging approach. OESM began in 2003 and a vibrant overarching community, known as the Open Energy Modelling Initiative (or "openmod"), has subsequently evolved.
Guivarch et al (2022:11–13) provide coverage of OESM for the first time in the IPCC literature. Specifically mentioned are the Calliope, GenX, PyPSA, and SWITCH projects. To which the OSeMOSYS project could be added.
The more established OESM projects now claim about 30 contributors — small in FOSS terms but significant in this context nonetheless. Community members tend to be PhD candidates, thus clearly atypical for a FOSS project. Several OESM projects have recently begun formalizing their governance practices, including decision‑making processes, assigned responsibilities, and strategic planning out 3 years or so. These are all signs of increasing maturity.
2. Policy briefing
UK Aid, officially the United Kingdom Department for International Development, is collecting policy briefings as it helps prepare for the next COP 27 in Egypt later this year. And the Climate Compatible Growth (CCG) project is coordinating a set of such inputs to feed into that process using academic protocols, including blind review. I duly submitted an abstract with the title:
A need to better understand and assist the developer/user communities that underpin open energy system modelling
That abstract was accepted on 19 May 2022. That text is available below. The completed policy brief of 1250 words is due on 27 June 2022 and will be subject to a further blind review.
Although the title of the abstract is neutral, the needs of users and developers in the global south will be a focus. Indeed, I argue that, in this context, open source methods are superior to traditional analysis in several respects — as covered in section 3.
Some of the OESM projects listed earlier have been working in the global south already and primarily in regions in Africa. Some of the resulting literature is cited here.
3. Particular aspects of open source modeling
This section is provisional in the sense that the yet‑to‑be-conducted interviews should be the main source of information on attributes and challenges. Some of the characteristics and issues are general to FOSS projects, while others are specific to energy system modeling within an open paradigm.
The FOSS ethos facilitates soft technology transfer, initially southward, and then bidirectional as depth builds. Researchers more remote to the study area (and more likely from the global north) can gain insights in ways not readily available outside of this context.
The FOSS ethos is also conducive to agile development. And code quality can be high, in part due to Linus's law that, given sufficient eyes, all bugs are shallow.
Another general issue is finding experienced developers to act as maintainers and then retaining their services. Maintainers not only gatekeep code and data contributions, but they are also central in orientating, encouraging, and even mentoring new contributors.
Turning to energy system analysis more specifically. Figure 1 provides some context using a SWOT matrix. Access to legally unencumbered datasets is usually a major headache. But in the context of this policy briefing, it is the connections into the global south and the unique issues that might arise that are a focus.
Figure 1 : Provisional SWOT matrix (strengths / weaknesses / opportunities / threats) for open source energy system modeling in general (the matrix will later be duplicated using a north/south prism).
There are clearly challenges specific to those working and contributing in the global south. Preliminary observations suggest that some issues relate to the amount of time that researchers in the global south can devote to often volunteer activities. Another relates to access to hardware and connectivity. And language may offer another barrier because most if not all OESM projects work in english.
Agile development was cited earlier as a strength. The PyPSA project extended their PyPSA‑Eur model of Europe to Ukraine and Moldova 25 days after Russia invaded in February 2022. This same approach would also lend itself to crowdsourced inputs, particularly given the rapidly changing environment on the ground. See figure 2.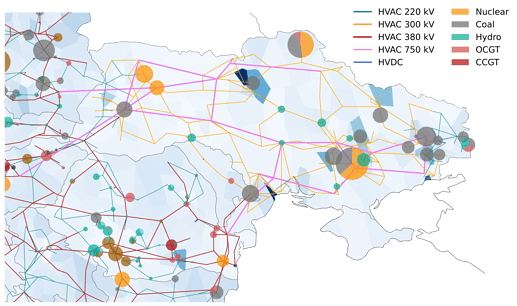 Figure 2 : Rapid extension of the PyPSA‑Eur model to Ukraine and Moldova 25 days after the start of hostilities in 2022 (credits embedded in PNG file).
4. Interviews
The process of developing this policy briefing will involve interviews. As this is essentially a scoping exercise, these interviews will largely be unstructured and qualitative (moreover I am not a social scientist). For those interested, Boehm (2019:§2.5) provides an excellent template for the non‑quantitative investigation of FOSS communities.
To this end, I am seeking contacts. And would be delighted to talk to people who work on the coalface and confront the questions and issues raised here. Learning of solutions would be helpful too, particularly in relation to institutional support, but this is not a necessary component.
The interviews can be by email, telephone, or video — as suits best. (robbie dot morrison at posteo dot de)
5. Closure
This posting outlines a new open paradigm for undertaking model‑supported public policy analysis. That paradigm offers advantages but also needs specific and tailored support from public institutions, be they engaged in international development, energy policy formation, science funding, public interest data provision, or public outreach.
In a recent European Commission publication, Warnke et al (2022:259–261) identify a "commons‑based economy" as a major trend but this style of production has yet to be considered for official energy policy analysis.
An idea gaining ground is that all numerical models used to inform policy should be released under open source licenses and with necessary datasets so independent parties can run and verify the results. Rechtspraak (2019) reports a preliminary ruling on public interest litigation in the Netherlands to enforce the release of the OPS/AERIUS model used to inform the regulation of nitrate flows. The Dutch government, to its credit, made the material available shortly after this verdict under a GNU GPL software license.
Generally feedback on this posting is also welcome: please contact me via this forum or by email.
Finally to note that although openmod infrastructure was used for communication purposes, this work is solely that of the author and is not a community initiative in any sense.
Abbreviations
The following abbreviations apply:
References and further reading
Boehm, Mirko (2019). "The emergence of governance norms in volunteer-driven open source communities". Journal of Open Law, Technology and Society. 11: 3–39. ISSN 2666-8106. doi:10.5033/jolts.v11i1.131.
Erlach, Berit (22 December 2020). Energy system models explained: Dr Berit Erlach explains energy system modeling in everyday terms. Berlin, Germany: Löschwasser Productions. Video 00:13:17. Filmed 9 June 2019 in Berlin, Germany by Robbie Morrison. Reference LP‑001‑01. CC‑BY‑4.0 license.
Guivarch, Celine, Elmar Kriegler, and Joana Portugal Pereira (coordinating lead authors) (4 April 2022). Climate Change 2022: Mitigation of climate change — Annex III: Scenarios and modelling methods. Geneva, Switzerland: Intergovernmental Panel on Climate Change (IPCC). Working Group III contribution to the Sixth Assessment Report of the Intergovernmental Panel on Climate Change. See pages 11–13.
Niet, Taco, Abhishek Shivakumar, Francesco Gardumi, Will Usher, Eric Williams, and Mark Howells (1 May 2021). "Developing a community of practice around an open source energy modelling tool". Energy Strategy Reviews. 35: 100650. ISSN 2211‑467X. doi:10.1016/j.esr.2021.100650. Section §3.4 covers open source governance.

Pfenninger, Stefan, Joseph F DeCarolis, Lion Hirth, Sylvain Quoilin, and Iain Staffell (February 2017). "The importance of open data and software: is energy research lagging behind?". Energy Policy. 101: 211–215. ISSN 0301‑4215. doi:10.1016/j.enpol.2016.11.046. Open access.
Rechtspraak (16 December 2019). ECLI:NL:RBDHA:2019:13779, Rechtbank Den Haag, C-09-585101-KG ZA 19-1208. Judicial system Netherlands. The Netherlands. Website. Ruling on interim relief concerning the release of the OPS/AERIUS nitrogen circulation model.
Warnke, Philine, Kerstin Cuhls, Ulrich Schmoch, Lea Daniel, Liviu Andreescu, Bianca Dragomir, Radu Gheorghiu, Catalina Baboschi, Adrian Curaj, Marjukka Parkkinen, and Osmo Kuusi (3 December 2019). 100 radical innovation breakthroughs for the future — KI-04-19-053-EN-N. Luxembourg: Publications Office of the European Union. ISBN 978-92-79-99139-4. doi:10.2777/24537.
About the author
Robbie Morrison has been working on high‑resolution national energy system models since 1995 and open source variants since 2003 (first deeco and then xeona). He now contributes regularly to the Open Energy Modelling Initiative (openmod), first becoming active in 2016. Robbie began advocating for genuinely open data to underpin energy policy development in 2017. He also participates in the Free Software Foundation Europe Legal Network since 2017, where issues related to open source governance are often traversed. Robbie holds an MSc in Energy Management from Otago University, Aotearoa/New Zealand. Robbie also began advocating for climate protection as a citizen in 1990 (doi:10.5281/zenodo.4823717).
Robbie is not aligned with any of the aforementioned OESM projects in any substantial way, although he does maintain working contact with key people in the allied project teams. Conflict of interest issues are thus not expected to arise in the course of this investigation.
▢